OUR HOTEL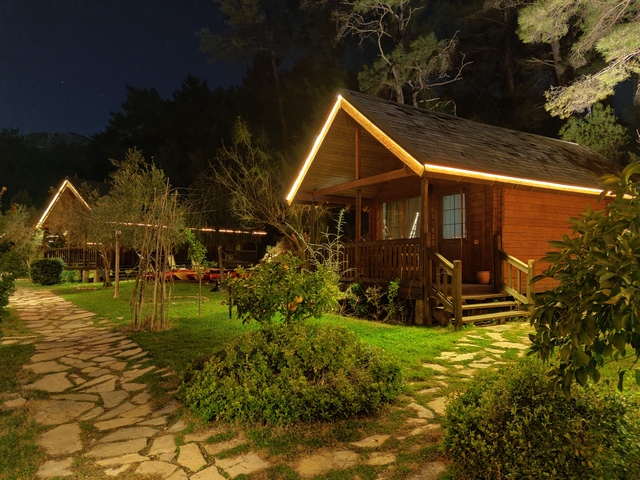 Located in the middle of the pine forest, Olympos Village Hotel is only 3 km from the world famous Olympos Beach. Those who evaluate the distance to the sea on foot will have a pleasant journey, albeit a short one, among the fragrances of pine.
If you wish, you can use our shuttle service to the beach within the specified hours.
The trees of our Finnish-wood bungalow rooms have a special processing, breathing feature... you will feel the peace of the smell of wood as you stay in your room.
Our air-conditioned bungalow rooms with high ceilings are spacious rooms designed with modern pleasure. Our bungalow rooms have a large balcony and seating area. From the balcony of our bungalows, you can watch our garden, the forest around us and the landscapes that look like paintings.
In order to get daily cleaning service at our hotel, you can give information to the receptionists at any time for room cleaning.
Our rooms in our stone building have skylights. You can spend peaceful moments watching the turquoise waters of our pool at pool side rooms, which we call pool view rooms.
Olympos Village is a guest house with absolute peace, where you can enjoy the lush trees, the sky and the sunset and be with your loved ones.
There are those who seek luxury and those who love nature.
All these details form a unique mosaic in the midst of nature…
Where Are We Close to?
We're 2 km from the Olympos Activity Center.
We are 8 km from Adrasan Bay.
We are 3 km from the ancient city of Olympus.
Adrasan paragliding is 7 km away.
It is 7 km from Adrasan.
Kumluca is 25 km away.
We are 80 km away from Antalya city center and 95 km away from Antalya Airport.